Spring is finally near and soon the sun will be shining brighter through your windows - which means it's time to freshen your apartments and make it sparkle! Barefoot season is just months away!
Cleaning with eco-friendly products made at home are the way to go for a fresher feeling in 2021. It makes cleaning more enjoyable! When made properly, DIY products are biodegradable, less toxic, fill your rooms with fabulous scents and produce less to zero packaging waste! Importantly, natural cleaning solutions are better for our planet. Green cleaning reduces both water and air pollution, helps us battle climate change and simply makes your home look its best.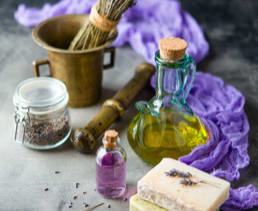 To start, purchase refillable spray bottles (glass is even more eco-friendly than plastic), a few jars, microfiber clothes, sponges and wooden handled brushes and mops! They are easy to find online and are attractive, too! Once you have them, begin cleaning with these easy tips:
1. Be Careful with Essential Oils and Your Pets
Whether it's lavender, clove or Thieves' oil - adding essential oils to natural cleaning products can invigorate or calm your atmosphere. However, take note: tea tree, orange, lemon, and pine are reported as UNSAFE for pets. Look here for the oils that are pet friendly such as geranium, lavender, clary sage, and eucalyptus.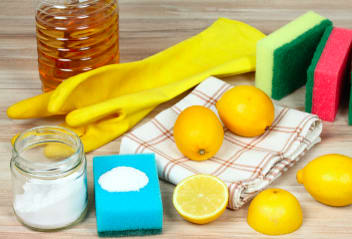 2. DIY All-Purpose
For a cleaner that's gentle, but effective, combine in a spray bottle, ¼ cup of vodka, 2 & ¾ cup distilled water (regular tap water can cause streaks), 1/2 teaspoon lavender essential oil, and 1/4 teaspoon tea tree oil (avoid tea tree if you have a pet). Spray on surfaces including doorknobs, faucet handles, toilet seats, etc. and porcelain sinks. Vodka is a natural disinfectant and doesn't leave a sticky residue!
3. DIY All-PURPOSE 2
Mix water and vinegar, with clove or lavender oil OR FRESH SAGE. (1/4 cup white vinegar, 1 & 1/2 cup of water and 35 drops of essential oils or fresh sage sprigs. The oils help tame the vinegar scent. Use it on the kitchen sink, walls of dishwasher (or if dishwasher needs a fresh scent), and stovetop. For floors, mix 1:1 water to vinegar ratio, and add some essential oils if you prefer and then mop. Vinegar eats through grime!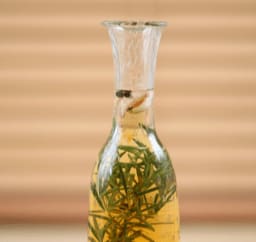 4. WINDOWS & GLASS
There's one magic ingredient for streak-free glass: cornstarch! In a large bowl, combine one cup of hot water and one cup of rubbing alcohol. Whisk in four tablespoons of cornstarch. Pour into a spray bottle, and use on windows, mirrors, or glass - then wiping clean with a microfiber cloth. Picture perfect!
5. STAINLESS STEEL
For stainless steel and chrome, just use a small amount of dish soap and water in a spray bottle. Spray onto the surface and wipe with a new microfiber cloth - make sure to scrub in the direction of the grain. Easy!
6. MICROWAVE OVEN
You will love this tip: Put a bowl with ¼ cup of white vinegar and one cup of water in the center of the microwave. Heat for five minutes on high. Once the bowl cools, dip a clean cloth into it and use it to wipe splatters. EASY!
7. HARDWOOD FLOORS
For a shiny hardwood you only need a tiny amount of eco-friendly dish soap with a gallon of warm water - and a mop.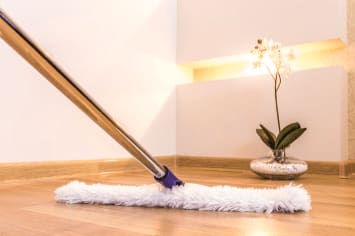 8. BATHROOM
For tile floors, bathtub and shower, fill a jar with 1 & 3/4 cups of baking soda, 3/4 cup warm water, 1/2 cup of liquid soap (like Dawn), and 2.5 tablespoons of white distilled vinegar. You can also use some lemon juice to remove the extra grime.
Happy Spring!