Apartment Holiday Décor: Celebrate What Makes You Feel "At Home"
One of the best parts of the holidays is decorating your apartment home the way that brings YOU joy. From cozy, twinkling spaces to rustic winter scenes, there is no wrong way to decorate for the holidays. Here are some tips that will help spark your inspiration this winter.
Simple color schemes make for timeless, elegant looks
Color is a big consideration when decorating any space. Simple color schemes of one or two dominant colors create a sense of harmony and cohesion. Try mixing natural forest green with shimmering gold or white for an enchanted forest look. Natural elements like pine cones create a casual winter vibe that can stay out through January, too! For a more luxurious feel, fill your space with neutrals mixed with silver or gold bulbs and linens, and add some fine vintage China to create a more refined look.
One color
Monochrome is easy on the eyes. You can create spaces with a single color. Example: If your mantle is white, add white wreaths, white trees, and white candles.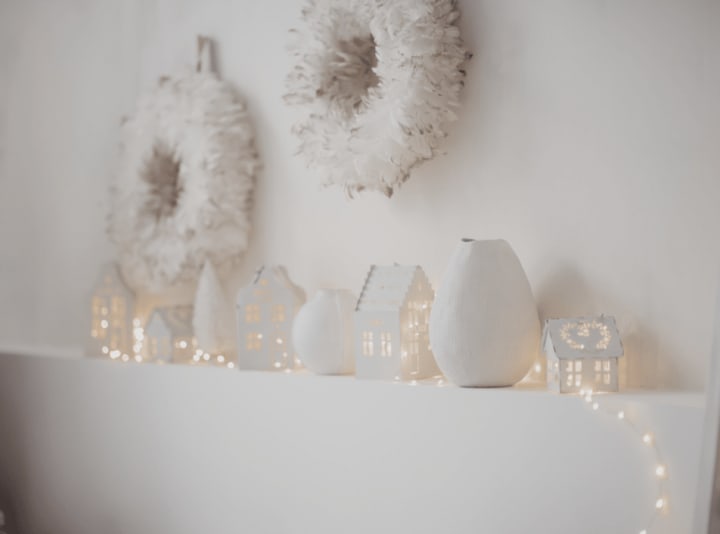 Incorporate family memories
The holidays are about making memories with the people we love the most. Photos of family and friends and keepsakes from past holiday gatherings are some of the best ways to inspire joy. Does dad love birds? Add some bird ornaments! Get fun holiday socks for the whole family and take Pinterest pictures with them. Then frame those pics as part of your décor.
Work with the style of your space
Let your home's layout and style inform your holiday décor. For instance, a room with a cathedral ceiling (like Singh Apartments have!) could feature a tall, majestic Christmas tree or a large, splendid wreath. Decorative branches, lights and hanging snowflakes will nicely fill these spaces and give them a magical "wonderland" feel. For smaller areas, like our studio apartments, the same effect can be achieved by enveloping doorways in snow-tinged garland, stars, or lights. Shelving or other flat surfaces can be utilized as a scene for miniature winter trees and snow globes. And Christmas lights, the ultimate mood lighting, bring festive cheer to any room. 
The delight is in the details
Holiday décor isn't just about large centerpieces. Leaving little surprises for guests to indulge in will also heighten the merriment. Hang cookies on the tree for guests to enjoy. If you're ringing in the eight luminous nights of Hanukkah, place a bowl full of colorful dreidels on your coffee table for children and adults to enjoy. 
Work in elements of your personal style
Love cow print? Add the pattern to your garland and lights. Love Halloween? Then a Jack Skellington figurine in his Santa suit is a must. Whether you are quirky or classic, that will come across in your holiday décor. The holidays are a time to celebrate all the things that feel like home, which means something uniquely special to everyone.