As you get your spring cleaning on this year, you may be considering using more natural products. Harsh chemicals in some brands can irritate your skin and eyes, and they are believed to have negative effects on the environment. Instead, there are many homemade cleaning solutions you can use that are better for the environment and for you. If you prefer to purchase solutions than make them, several commercial brands of eco-friendly cleaning products can provide you with similar benefits.
Eco-Friendly Cleaning Products on the Market
There are many all-natural and organic brands on the market that are perfect for apartment cleaning. Following are just a few suggestions.
Mrs. Meyer's

: Mrs. Meyer's Clean Day products include laundry detergent, dish soap, and all-purpose cleaners in refreshing scents.

Method

: Many makers of eco-friendly cleaning products apply their

green standards

to such things as their packaging and manufacturing facilities. Method is one of them. Recycled packaging is used for its various products, which include mopping, glass cleaning, and tub and tile solutions.

Seventh Generation

: Perhaps one of the best known organic brands, Seventh Generation offers a wide range of products. Not only do they manufacture glass and surface cleaners, shower cleaners, detergents, and wipes, but they also offer several types of beauty and baby products.

Ecos

: Another well-known natural brand, Ecos offers all-purpose cleaners and pet stain cleaners. The manufacturing facilities are powered 100% by renewable energy.

Better Life

: Better Life's products include organic all-purpose cleaners, glass cleaners, floor cleaners, kitchen and bath scrubbers, and granite cleaners. Here's an interesting fact: The

founders got their big break

on ABC's "Shark Tank."
DIY Homemade Cleaning Solutions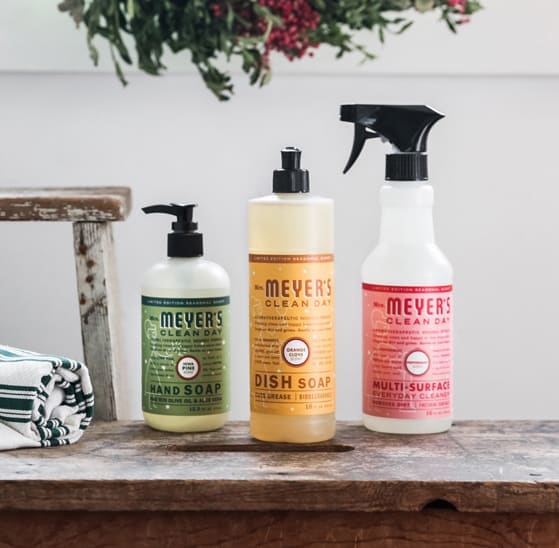 In addition to purchasing eco-friendly cleaning products, you can also make solutions with basic household items. Vinegar, lemon, baking soda, and plain water are common ingredients you'll find in homemade cleaning solutions. Following are only a few ideas.
Solution: Equal Parts Vinegar and Water
Place this solution in a spray bottle, and use a microfiber cloth to safely and effectively clean shower doors, glass, and most kitchen countertop surfaces.
Solution: Baking Soda, Organic Dish Soap, and Water
After making a paste with 3/4 cup baking soda, 1/4 cup dish soap, and a couple tablespoons of water, use a sponge and this solution to clean stubborn tile.
Solution: One Part Hydrogen Peroxide with Two Parts Water
Spray this onto mildew, let it sit for about an hour, and wipe or rinse it off. Use a toothbrush to scrub grout lines if necessary.
As with any cleaning products, test a small, inconspicuous area first. Avoid placing chemicals down sinks, toilets, and shower drains in your apartment. Thoroughly examine your apartment rental agreement for related policies.