We are wonderfully entrenched in the holiday season and it's never too late to add some dazzling updates to your current decor that's already up in your home.
Whether you want to freshen your current collection, or are starting to build your decor from scratch, how do we decorate our homes with festive sophistication?
These are key questions that Andron Fox, of Fox Design & Staging, said he is often asked. With decades of experience in the field of design, and with this time of year being his favorite for seasonal decorating, Fox shares suggestions to make your home worthy of a magazine cover!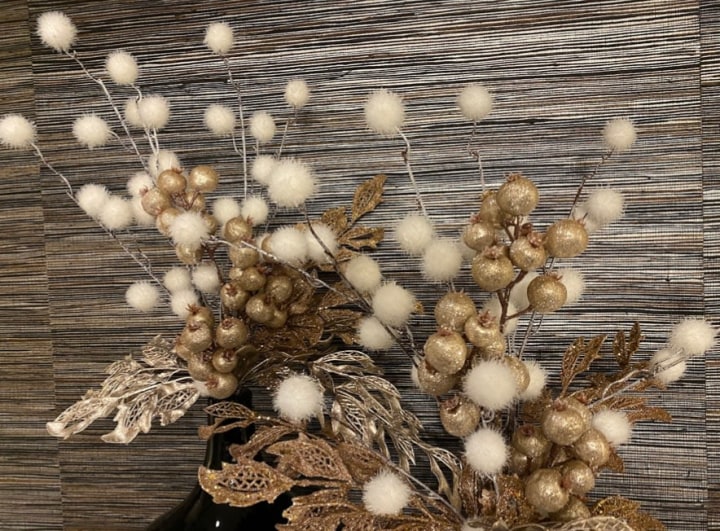 "With holiday style, trends tend to adjust every few years, rather than dramatically change each year. Luckily styles are long-running," Fox said. "New ideas always arrive, but the old ones just move forward a bit. For example, vintage decor that's passed down from generation to generation should never go out of style. I always tell people the number one rule: Build off items that you love."
Celebrate your generations' old family ornaments by putting them in groupings. A Santa Claus sitting solo in a corner may look lonely, but group it with some of your other vintage pieces, in odd numbers such as three, or with holiday garland and you have a nice, fresh, statement area.
Fox, who has designed model homes for Singh properties such Singh Homes, Singh Apartments (including Northridge in Rochester Hills and The Griffin in Royal Oak) and Waltonwood Senior Living, said right now he loves nature-inspired holiday decor. It's contemporary, yet warm. Neutral colors, woodland ornaments and sprigs, puffs and leaves in white and metallics are safe to add to almost anything. It also looks stunning against neutral walls in today's modern homes.
"Whites, beiges, grays, blacks also blends nicely with colorful vintage items," Fox  said. "I really liked adding neutral colored and metal ornaments with black reindeer."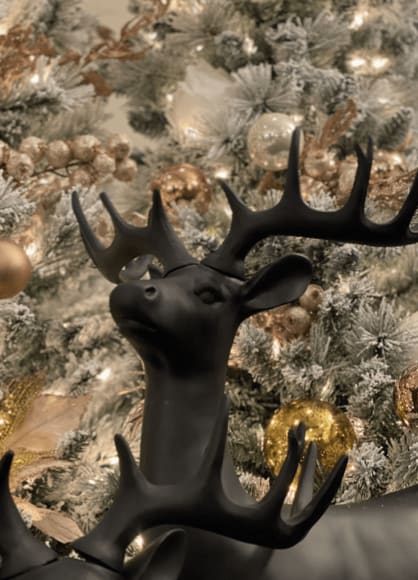 Decor  pops with bright metals. Rose gold, copper, gold, silver ornaments and sprigs. All that glitters is great for holidays.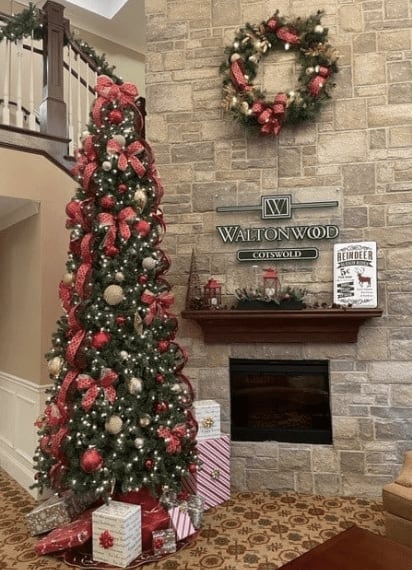 Some other decorating tips by Fox include:
Most people buy decor that's too small. If the room is big, make it bold. Go bigger than you think. Make it a statement.  Trios of trees are trendy and make a big statement.
Remove some of your year around decor before adding all the wreaths and garland. You don't need a snowmen sitting next to summer or fall floral arrangement. 
New decor of reds and  greens is classic paired with vintage items, adding extra gold will keep it looking modern (and merry!).
Whatever colors you choose, take the colors from your tree ornaments and spread that through other decor in the house. Or reverse it. Get inspo from the colors from your art and add them to a trio of trees!
For example, at The Griffin Royal Oak, colors in one of the murals was incorporated into the holiday trees and garland, created by Fox.
Fox's favorite holiday tip this year is with the tree. Most faux trees come with pre-lit lights. Adding a few strands of larger blubs in different shapes, but same color, on top will change and enhance the depth of tree, he said. This can be done indoors or out!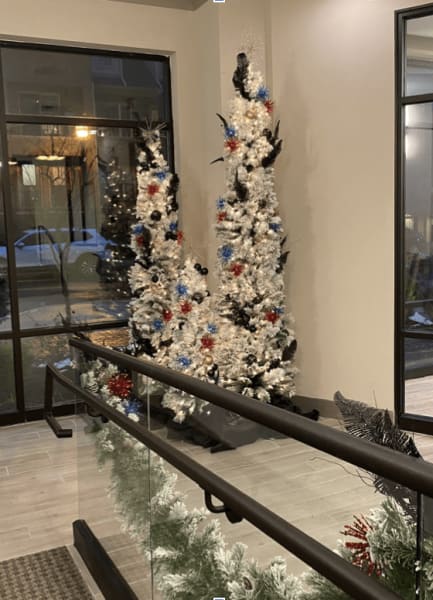 The lights, garland, wreaths, knick-knacks, keeping it all in similar tones  add a cohesive look - even using some of those same colors in your gift wrapping!
"It's building on to what you already have, rather than feeling like you have to change everything. Whatever you decide, make sure it brings you happiness, because that's what the season is all about."