Welcome to the most colorful season of the year! With a little creativity, you can bring the beauty of fall inside in no time. Fall decorating ideas for your metro Detroit apartment are all around you. Take a look outside, browse through your local home goods store, peruse the internet, and walk around your apartment for inspiration.
Here are a few ideas to get your creative juices flowing.
1. Swap your home linens for seasonal linens.
Seasonal linens are so fun and pretty, and just a few here and there throughout your home will do the trick. Toss some decorative pillows on your couches, and swap your bedding for fall-themed sheets, comforters, and pillowcases.
2. Purchase fall-scented candles.
Brown, red, scarlet, and burnt orange candles will beautify your apartment, and the pumpkin, cinnamon, or woodsy scents will make your home feel cozier than ever. A candle warmer set is ideal, as you will be able to freshen up your home all day and the flicker of the light will add a special ambience to your apartment.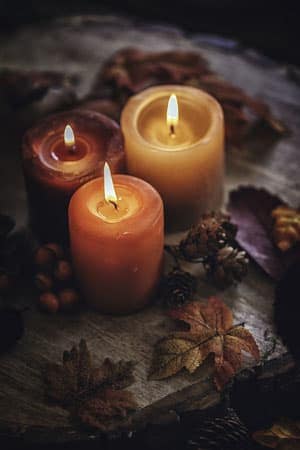 3. Use essential oils to enhance the fall scents in your apartment.
As an alternative to or to complement the scent of the candles, use essential oils all around your home. A diffuser will ensure that your entire room is soothing and refreshing.  
For a seasonal aura, try a blend of oils to create a chai tea latte, gingerbread, pumpkin spice, or mulled cider scent. A chai tea latte blend, for example, would require three drops of cardamom essential oil, two drops of cinnamon, two drops of vanilla, and one drop of ginger root.
4. Set out the warm lights.
Setting a string of autumn-themed lights on your patio or balcony or around the inside of your apartment is an easy way to decorate for the season.
5. Decorate your home with gourds and small and large pumpkins.
Stop by a local southeast Michigan farmer's market and buy a collection of beautiful gourds and other decor. Arrange them in baskets with artificial or natural hay and leaves, and set them around your apartment. Choose multiple colors for the best effect.
And naturally, don't forget the larger pumpkins for your apartment balcony or patio. Just for fun, buy several different sizes of pumpkins to create a more exciting display.
If you don't want to use real items, there are an array of decorative plastic, ceramic, and glass pumpkins available for purchase. You can also mix and match with nontraditional colors, such as white, gold, and even blue pumpkins.
6. Set mums outside.
Place orange, red, and brown mums on your patio or balcony. Because they are hardy plants and late bloomers, they should last through the season and also add warmth to the outside of your home.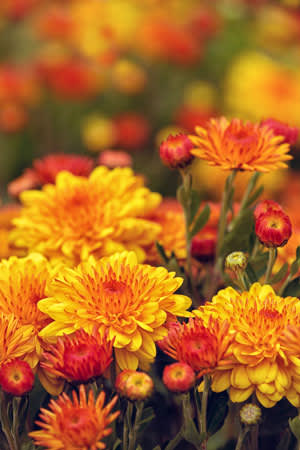 7. Use flowers as centerpieces.
Warm-colored fresh flowers make perfect kitchen table centerpieces for your home. Replacing them throughout the season will give your apartment a unique appeal every few weeks. (Hint: Use a fresh pumpkin that has had all the seeds removed as the vase. It might only last you a week or so, but it will be well worth it.)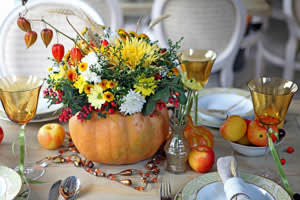 8. Hang a wreath or wooden sign.
Buy or make wreaths featuring stems, corn, apples, pomegranates, and other seasonal decorations. Hang them on your front door and on the doors throughout your apartment. Adding a fall-themed wooden welcome sign at your door is a great option as well.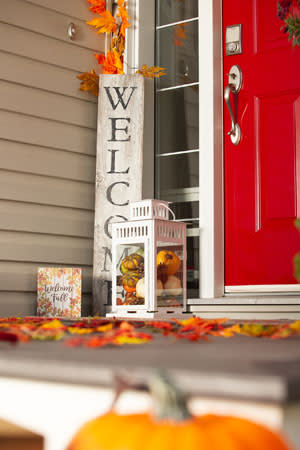 Beyond the fall decorating ideas, you can complement the vibe in your apartment by baking or cooking foods that the season is known for.  
After you clean out and carve your pumpkins for display on Halloween, for example, rinse the seeds and then toast them in your oven. The seeds alone smell like autumn, but you can enhance the scent with nutmeg and cayenne pepper, creating a sweet and spicy aroma and flavor.
Simply boiling a pot of cinnamon tea will make your home smell and feel just right for the season.
And remember, fall decor is ideal for the Thanksgiving holiday as well, so your hard work can beautify your apartment well past November.