Kitchen Gadget and Utensil Organization Ideas
When you first move into a new apartment, every kitchen item seems to fit neatly in its own space. There's room for everything you need and more, you think. The longer you live in your apartment, however, the more you buy new items. Slowly but surely, your kitchen becomes cluttered and awkward, even if you rent an apartment with abundant kitchen storage space.
But there's hope. The following kitchen gadget and utensil organization ideas combine creativity and practicality to help you create an efficient space while enhancing its character.
Smart Ways to Organize Kitchen Gadgets and Utensils
1. If you don't need it, remove it.
Let's get this out of the way first. It's extremely tempting to buy kitchen supplies, so you probably found yourself buying items that you only used once. Start with taking inventory of the items in your kitchen. If they're worn or rarely used, donate or recycle them; if they don't belong in the kitchen, find a better place for them in your apartment. Now you instantly have more space to work with.
2. Hang items on walls.
Consider purchasing or making a pegboard, and hang it up on the wall for additional places to hang kitchen utensils, towels, and potholders. Use a hanging wall organizer for light cutting boards.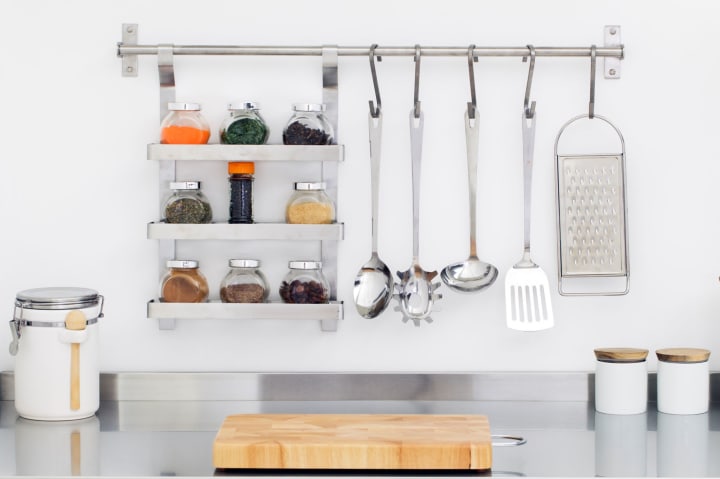 3. Take items out of the drawers.
Having to ruffle through your utensil drawer to find the items you need is a hassle, and it may even prevent you from enjoying cooking. Don't overlook the fact that you can store kitchen gadgets and utensils on the countertops or kitchen island as well. Just make sure your kitchen still appears tidy and stylish. For example, use stainless steel mugs or decorative jars to store spoons, knives, and forks on the countertop. Doing so would add a design element to your apartment kitchen while clearing space in your utensil drawer.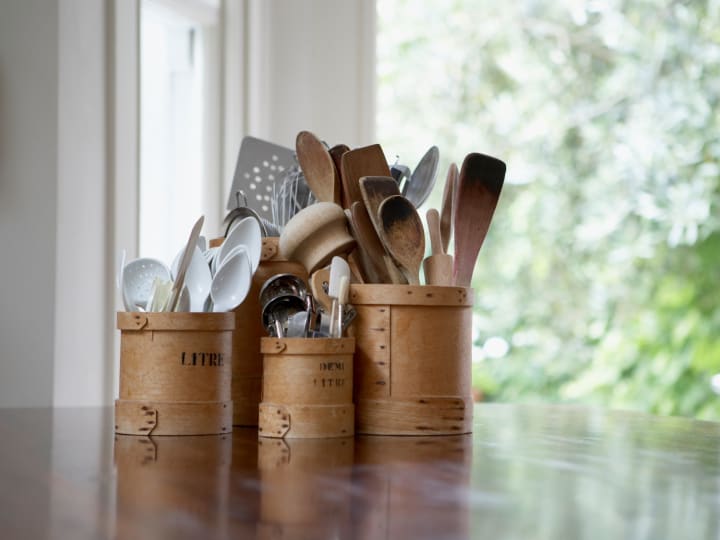 4. Add dividers inside the utensil drawer.
Store-bought dividers work sometimes. Other times, you need to customize the dividers in order to organize kitchen gadgets and utensils based on their size, quantity, and even frequency of use. Consider making your own dividers, allowing you to slip a particular item perfectly into its spot every time.
5. Place a remote control carousel on your kitchen countertop.
They may be made for remote control storage, but that doesn't mean they can't serve a different purpose. Place one on your countertop, and use each compartment for a specific type of utensil. It's like a miniature Lazy Susan on top of your kitchen cabinets. A rotating, tiered snack organizer would do the trick as well.
6. Buy a movable cart.
A movable cart will provide you with additional storage drawers and shelving if you need it. Because it likely has wide space, it's especially ideal for cutting boards and small appliances.
7. Give the kitchen pantry its due credit.
A kitchen pantry can work wonders for organization, if you know how to use it efficiently. Use the shelves to store containers of flour, sugar, and other similar items, as well as small appliances like a slow cooker and blender. Add hooks inside the walls for wooden spoons and other cooking utensils.  When you do so, make sure everything has its space and is easy to reach.