Consider these festive and delicious mocktails for the holiday
Let the cocktails flow this season, with or without the spirits! Mocktails are trending and we have mouthwatering ideas to make your tastebuds rock around the Christmas tree!
How popular are mocktails? Google searches for "mocktail" increased 42% last year. And, online non-alcoholic beverage brands have seen a healthy spike in sales. The mighty mocktail is here to stay! Still any of the following drinks can include spirits if that is your preference. The point of an attractive cocktail is all about taste.
Remember, with any drink, quality ingredients are key. Inspired by the top mixologists around the country, these mocktails allow you to hoist your eye-catching glass on New Year's Eve - or all season long!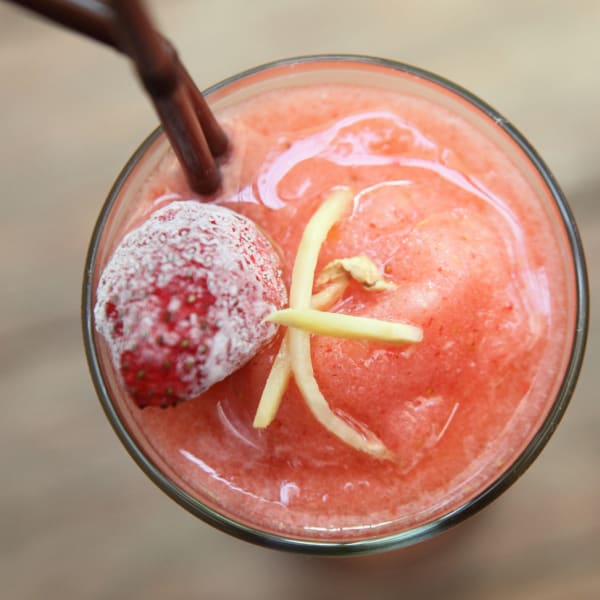 Berry Spritzer
Colorful, fizzy, fruity and sweet, a berry spritzer is best with a mix of both fresh and frozen fruit. Darker color fruits like blueberry and strawberry are best for the holidays and if you desire alcohol, mix with vodka.
1 (12 oz.) bag of frozen mixed berries
1 2-liter of lemon-lime soda
1 cup fresh strawberries
Alcohol option: Tito's Vodka
Step 1: Pour frozen fruit evenly into 4 glasses.
Step 2: Add ice cubes and pour lemon-lime soda into each glass.
Step 3: Stir each glass using a knife to mix the fruit throughout the drink.
Step 4: Garnish with fresh strawberries, blueberries or raspberries.
Optional: Make an entire batch and pour them into a punch bowl or picture (for smaller gatherings).
Coffee Dream
Everyone loves a coffee drink to feel cozy during the holidays and for parties we like them iced! The Dream can be made de-caff if you choose, and coconut cream can replace the heavy cream for a non-dairy version! The lemon juice is so subtle but necessary, giving it an almost cheesecake in a glass flavor. Yes, please.
1.5 oz heavy cream
1.5 oz spent coffee grounds syrup (It's easy to make. You just need coffee and sugar)
.5 oz lemon juice
Seltzer
Alcohol option: Four Roses Bourbon
Directions: Add ingredients to a cocktail shaker and shake. Add ice and shake again. Strain into glass. Top with seltzer and garnish with coffee beans. This looks great in a margarita glass.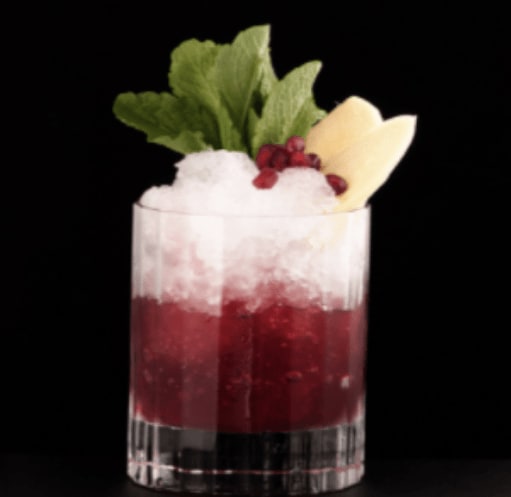 Holiday Lights
We love this drink because it's both pretty, and surprising. The kombucha makes it an interesting mocktail! Deep in flavor with surprising hints of sour, it goes well with vodka, too!
2 oz. cranberry juice
.5 oz lemon juice
2 oz homemade sorrel tea
¼ cup kombucha
Garnish option: orange slice with cloves through a toothpick
Alcohol option: Vodka
Directions:
Shake ingredients BEFORE adding kombucha (or it will overflow). Top with kombucha and garnish with a clove-studded orange twist.
Holiday Mule
Who doesn't love a mule? Serving it without alcohol is also really delicious! Ginger beer and cranberry is wintery combination that just rings of holidays! Use just a bit of cranberry to keep the color looking deep champagne in hue.
.75 oz cinnamon syrup
.75 oz lime juice
.5 oz cranberry juice
Ginger Beer
Garnish option: rosemary sprig dipped in powder sugar, optional for decor
Alcohol option: Vodka
Directions:
Combine cinnamon syrup, lime juice, and cranberry juice in a cocktail shaker and shake with ice. Top with ginger beer and garnish with fresh cranberries and rosemary sprig sprinkled - with a dusting of powdered sugar.
Cider, Thyme, and Tonic
A mulled mocktail, of course! We love the addition of fresh pear as the 2022 ingredient trend! Expect to see pears in a lot of your cocktails next year.
12 oz apple cider
2 oz freshly squeezed lemon juice
2 oz thyme simple syrup*
1 bottle (9.3 oz) tonic water
Additional thyme and lemon slices for garnish
1 chopped pear, any kind
Dalash cinnamon and nutmeg, clove
1 cinnamon stick per drink
Alcohol option: Brinley Gold Shipwreck Spiced Rum
*Thyme Simple Syrup
.5 cup granulated sugar
.5 cup water
2-3 sprigs of fresh thyme
Directions:
Add all ingredients except the pear to a small saucepan. Turn heat to low and stir until sugar dissolves. Simmer an additional about five more minutes or until syrup coats the back of  a spoon. Remove from heat. Take out the thyme sprigs and allow syrup to cool completely before using. Add the pear before pouring. BONUS: Store leftover syrup in a jar in the fridge for up to 2-3 weeks.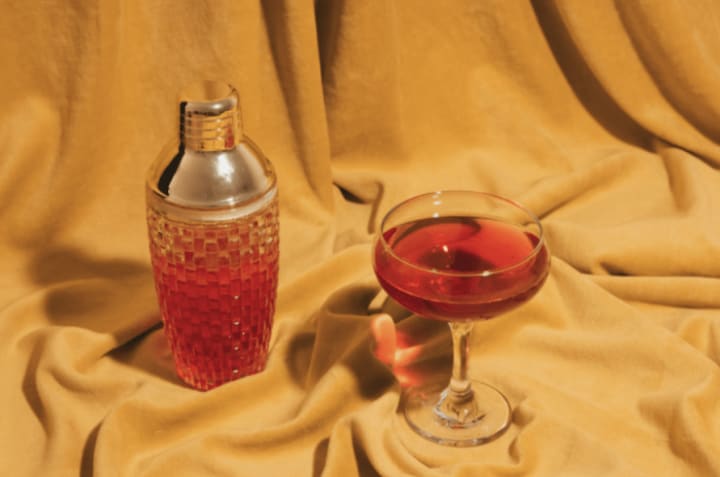 Completely Straight NYE Sparkling Cran-Apple Champagne
Adding sugar to the rim of this cocktail is what makes it special with your fresh apple cider, made in Michigan, of course. We suggest using raw sugar.
3/4 cup apple cider
½ cup cranberry juice
Splash club soda
Sugar in the raw dish (for the rim)
Fresh cranberries (for garnish)
Directions:
Dip the top of the champagne flute in water and then immediately dip into sugar dish. Add 2 ounces of cider and 4 ounces of cranberry juice to flute. Top with club soda for the champagne bubbles. Plop a fresh cranberry in for garnish.
Have a delicious holiday season!