Don't get us wrong, we love pumpkin spice lattes as much as you. We also love Michigan maple syrup and Michigan apples. Sweater weather is the perfect time to dive into drink ideas that help us celebrate crisp autumn months.
Michigan ranks third in apple production and seventh in maple syrup production in the U.S. Who doesn't love syrup year 'round on pancakes and waffles, and apples in freshly baked pies? However, using them in cocktails or lattes are new reasons to love the flavors all over again.
There are so many Michigan farms making maple syrup, maple sugar and growing apples that you have your choice of types to buy. Impress your family, friends, or yourself with these maple syrup and apple ideas on Halloween, around Thanksgiving and all the way into the New Year. They all have similarities: cinnamon, syrup, apples, but vary on richness and thickness depending on what you crave!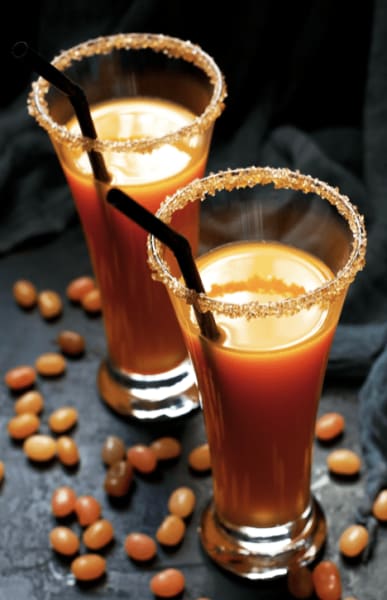 Maple Apple Old Fashioned
A Michigan twist to the classic cocktail that became fashionable again a few years ago. Adding maple and apple is a new spin!
2 teaspoons Maple sugar
1 teaspoon cinnamon
2 ounces bourbon - we recommend Luca Mariano bourbon, Michigan-owned and made in KY.
1 ounce Michigan apple cider, plus a little more for rimming the glass. (An excuse to visit Yate's Cider Mill!)
2 teaspoon Michigan maple syrup
2-4 dashes angostura bitters
1 Michigan apple, sliced into wheels, sliced (use one apple for three drinks)
Ice
For the sugar on the rim: In a small bowl, mix cinnamon and sugar. Pour onto a small saucer. Pour some apple cider on a second saucer.  Take a glass and dip onto the apple cider plate. Then quickly dip into the cinnamon-sugar plate. Use a small ladle to add ice into the glass. Set aside.
Next, fill a cocktail shaker with more ice. Add bourbon, apple cider, syrup and bitters. Shake vigorously for about 12-15 seconds.
Strain contents of the shaker into the prepared sugar glass and garnish with red apple wheels. Enjoy! (The bourbon amount makes one drink, but you will have extra sugar to make another!)
Maple Apple Martini
A creamy, crisp, tart yet sweet "tini." Making the maple cream is a bit time consuming, but makes a fabulously thick cocktail
1 oz maple cream (it's easy to make, but takes about an hour: all you need to do is cook down two cups of syrup.
½ oz  cider
½ oz maple syrup
1 oz 2% milk or almond milk
Sliced apple wheels
Dash cardamom
Combine ingredients in a shaker, shake, pour into a glass and garnish with apples! Top with a dash of cardamom. Serve immediately.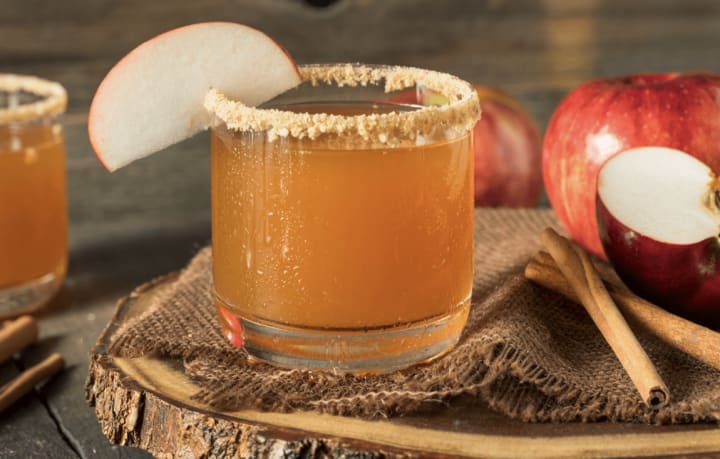 Salty Maple Butter Cider 
5 oz dark rum
8 oz Michigan apple cider
3 tablespoons maple syrup
1 & ½ tablespoons butter, softened
2 tsp vanilla extract
1 lemon slice
Dash organic sea salt
1 crumbled graham cracker
Start by adding the salt, cracker and lemon to the rim: Pour salt onto a small plate. Rub rim of two cups/mugs with a slice of lemon. Dip rims into salt. 
Next, in a small bowl, mix butter, syrup and vanilla and set aside. In a small saucepan, bring rum and apple cider to a quick simmer over medium heat. Divide the liquid in the two mugs. Top each with half of the butter mixture. Top with cinnamon Serve immediately.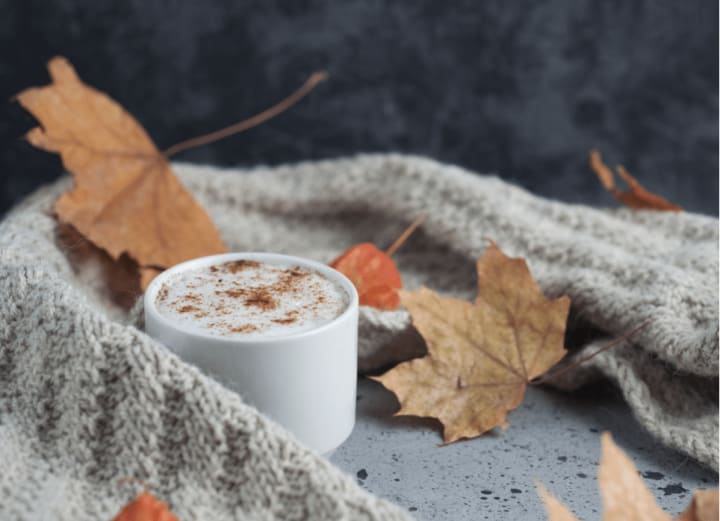 Easy Maple Latte
A sweet morning espresso drink that will really wake you up!  If you don't have an espresso maker, you can still make this by brewing strong coffee - think double the grounds.
2 shots espresso from espresso maker  (or ¼ cup very strong brewed coffee)
1 & ½ cups whole or 2% milk (or nondairy milk)
¼ tsp cinnamon
1 & ¼  teaspoon Michigan  maple syrup
Whip cream, optional
Add espresso shots/coffee into a mug. Mix milk, cinnamon, and maple syrup. Froth and warm the milk with a frother. Pour frothed/heated milk mixture into mug with espresso. Top with extra cinnamon and optional whip cream. Serve hot. Enjoy!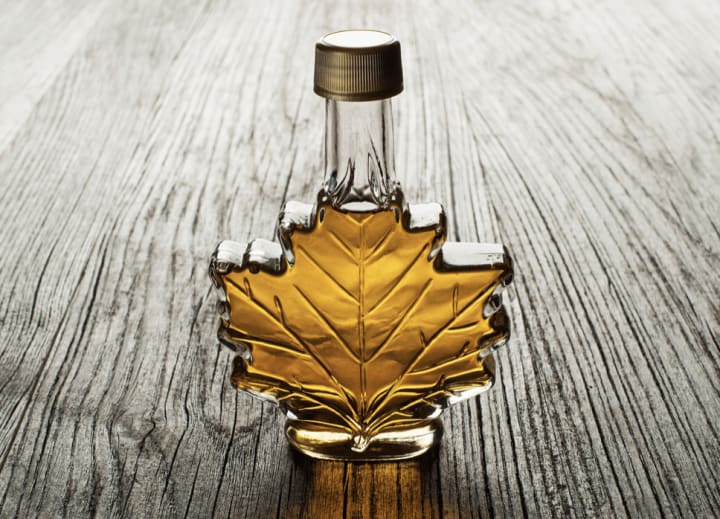 Enjoy these PSL alternatives!