Thanksgiving Side Dishes You Can Take With You to the Party
Have you been invited to a Thanksgiving or Friendsgiving celebration elsewhere? If so, think about the benefits! 
You don't have to spend hours making the turkey. All you have to do is eat it! You don't have to do the extensive decorating and prepping. All you have to do is bring a side dish and then sit back and watch the game!
The best part is that there are many Thanksgiving side dishes that you can make in your apartment and take with you to the party easily.
Looking for ideas? Consider these twists on traditional Thanksgiving side dishes to get your culinary juices flowing.
The (Mashed) Potatoes
Unless your culinary skills are outstanding, loaded mashed potatoes are best served warm right after you make them, so that might be a challenge to make ahead of time. 
So here's a solution: try a different presentation! 
Layer the warm ingredients (sliced or cubed potatoes, cheese, bacon, etc.) in a casserole dish ahead of time, and then just pop the dish into the oven before the meal is served. Bring sour cream along with you, and place it in a pretty serving dish on the table to allow guests to dollop a spoon of it onto the warm potatoes. Alternatively, include the sour cream in the casserole for a creamier appeal.
Consider this Loaded Potato Casserole from Very Best Baking by Nestle.
The Green Bean Casserole
If it's up to you which side dish to bring to the party, raise your hand for dibs on this one. It can't get much easier than combining the ingredients into a casserole dish and then baking them before the party starts. 
Best of all, with some holiday inspiration, you can make this dish very pretty and unique. For example, try adding cranberries and pecans to give the dish a sweet and savory flavor with a pop of color.
Consider this Cranberry Pecan Green Bean Casserole from Real Housemoms.
The Corn
Corn is among the top vegetables consumed on Thanksgiving Day. Grilling corn on the cob might not be easy, especially in November in Michigan, so coming up with creative ways to serve it can be fun.
Consider this Creamless Creamed Corn with Mushrooms and Lemon from Food & Wine.
The Stuffing
If you are charged with making the stuffing, this can be a really exciting opportunity to really show off those culinary skills. To some people, the stuffing is the best part. To others, it's just something they expect to see. You can turn the second group of people into fans when you show up with the most delicious, outstanding, and memorable stuffing they've ever had.
For this one, we'll offer a few suggestions just because the stuffing is such an important part of the Thanksgiving meal.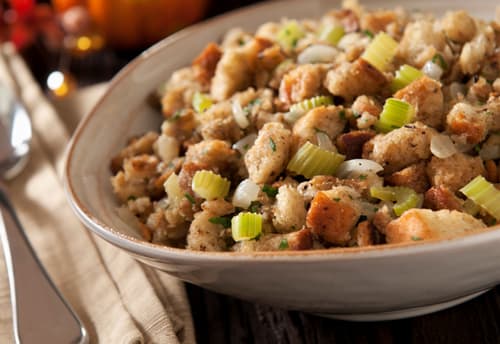 Consider these recipes for inspiration:
● Slow Cooker Sausage Herb Stuffing from The Recipe Critic: If you plan to spend the entire day at your friend's home prior to the dinner, bringing a slow cooker with you is ideal. You won't have to use the oven, and you can allow the pot to do its thing while you enjoy the afternoon with your friends and family.
● Wild Rice and Basmati Dressing with Sausage and Sage from CountryLiving: Who said the stuffing has to include bread? Many families use rice as the main ingredient in stuffing. The only downside is that you may have to cook this one ahead of time and then reheat it later, but it may just win over the skeptics.
● If you want to stick with tradition to a point, try something like this Thanksgiving Stuffing with a Twist from Blessed Beyond Crazy. You'll have the traditional bread stuffing, but bacon and a variety of other ingredients add a flavorful flair to the dish.
Of course, you can make your Thanksgiving or Friendsgiving celebration whatever you want it to be. There's no need to stick with the traditional side dishes. Make your own tradition by thinking outside the box, although it can be fun to follow tradition as well.
The only common factor you'll have to keep in mind is that the Thanksgiving side dish you prepare should be easy to transport. All of the above side dishes can easily be packed up in sturdy dishware or in slow cookers, allowing you to drive without worrying about spills or other messes. 
The bottom line, however, is that the most important thing you will bring to the party is you. There's nothing like spending the holiday in the comfort of the ones you love. From our family to yours, have a wonderful Thanksgiving!